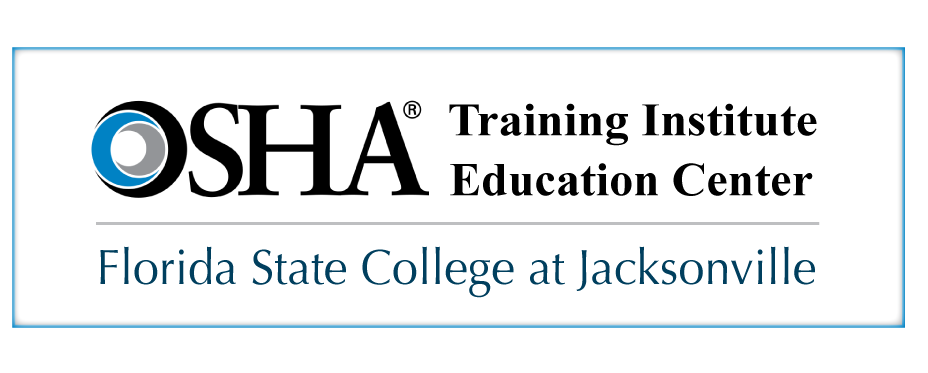 Region IV OSHA Training Institute Education Center
Strength in Occupational Safety and Health Training
On September 28, 2012, the U.S. Department of Labor announced Florida State College at Jacksonville (FSCJ) as one of four new OSHA Training Institute Education Centers (OTIEC's). With a range of required, elective and optional courses, the FSCJ OTIEC will provide occupational safety and health training to employers, managers and workers. This training program includes OSHA Outreach Trainer and update classes, OSHA standards classes and other safety and health training. Click here to view the news release.
The College with its experience in the development and delivery of education and training to military, government agencies and private business, is effectively structured and have the necessary experience and resources to fully support and successfully execute this program.
FSCJ is now offering OTIEC courses in Region IV!
Click here to view courses and course schedule. Already registered for classes? Click here to pay your tuition!
The FSCJ OTIEC is one of 27 OSHA Training Institute Education Centers which comprise a national network of non-profit organizations authorized by OSHA to deliver occupational safety and health training to public and private sector workers, supervisors, and employers on behalf of OSHA.
Our mission is to provide the highest quality, most cost effective training to employers, workers and safety professionals to broaden employer and worker knowledge and awareness and prevent and reduce workplace accidents and injuries.
As a designated Region IV OTIEC, we serve the states of Alabama, Florida, Georgia, Kentucky, Mississippi, North Carolina, South Carolina and Tennessee.
For more information, email OTIEC@fscj.edu or call (904) 565-7929 or (855) 565-7929.
View Florida State College at Jacksonville's privacy policy here.
Program Brochure & Course Schedule
ATTENTION: Qualified Instructors